Our Story
Michael grew up on the family farm and was involved in his local 4- H program in his early years. Through 4-H, he showed various animals and raised produce. With his experience in 4- H and being raised in an agricultural business setting, he grew excited about the possibility of owning and running a business of his own one day.
Well that came to fruition rather quickly, when he was offered an incredible opportunity to buy a farm stand at the historic Central Market in Lancaster City. At just 16 years old, he ran and operated his first business by raising and selling his own produce.
After a couple of successful years at market, Michael made the decision to sell his stand so that he could attend and focus on college. Following graduation, he worked full-time in Ag sales and simultaneously continued his involvement on the family farm.
In 2014, Michael and his wife Paula, started pursuing business in agriculture which eventually led to the investment of the original grass fed angus herd.
In 2016, while just selling their first beef shares to friends and family, Long Farm Meats was officially launched.
​
​
​
​
​
​
Farming Lancaster County since 1754.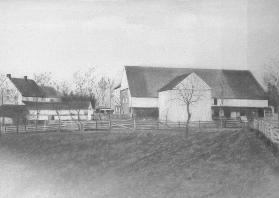 The Isaac Long Farm has one of the oldest barns in Lancaster county to date. Built in 1754 by Mennonite immigrants Hans and Anna Long, the Isaac Long Barn has significant Lancaster county history. In 1767, a great gathering of 1000 people took place. 'We are Brethren' exclaimed Rev. Philip W. Otterbein to Mennonite preacher Martin Boehm, the first two bishops of the Church of the United Brethren in Christ, organized thirty years later. Both the United Brethren in Christ Church, and The United Methodist Church trace part of their history to the 1767 meeting at this barn site.
The farm continues to be used today to make hay, farm cash crops (wheat, soybeans, field corn), raise cattle and hogs.